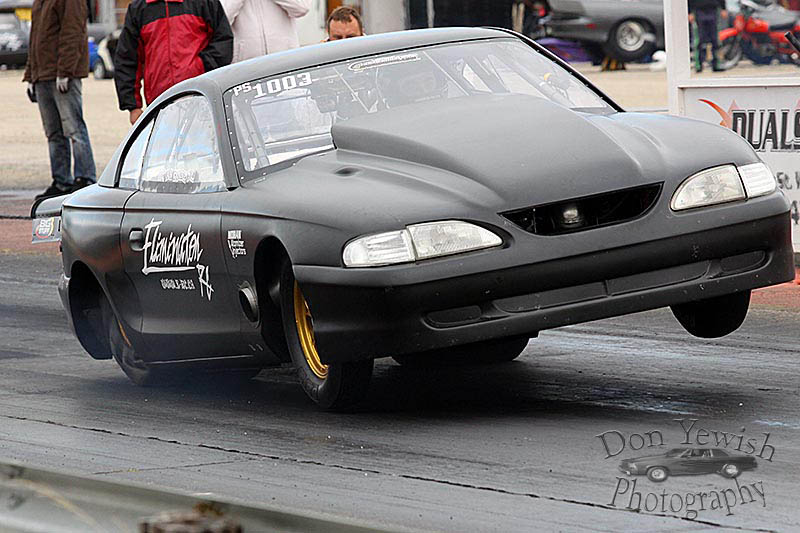 1994 mustang
Chassis
25.1 molly tube chassis
90" wheeliebars
Weld magnum 2.0 rims in gold w/ champion wheel bead locks on the rear
Moroso front runners and M/T rear slicks
Strange disk brakes all around
Competition engineering molly 9.5" floating rear end with sway bar and wishbone locator strange 40 spline axles 4.30 gear
Strange adjustable front struts and rear air controlled shocks
Dual10lb fire systems
Body
Hairy glass front clips, deck lid, quarter panels, and doors
custom aluminum rear wing
painted in ppg hot rod black
Motor and electronics
633ci all aluminum big block chevy with 18deg dart big chiefs (built by proline racing engine)
Dry sump oil system
Twin 94mm billet turbocharger
Stainless header
Tial waste gates
Procharger big red BOV's
Hogans sheet metal 16 injector intake
8 percision turbo 550lb injectore
8 moran 500lb injectors
Waterman little bertha pump 35gpm
Jesel belt drive
Neil chance built pro-mod glide with bolt-together converter
Precision specialties shifter
Big stuff 3
Msd mag belt driven with wolfe race craft kit
Peterson fuild oil pump
Pcs dash with data logger and egts
Much much more
Runs on alcohol Tuned by Mike Moran
Best time of 7.08 @200mph with old conventional headed bbc w/ twin s480 turbos, cast block, intercooler and rad. New combo is a lot lighter and 1000 more hp
Top qualifies all 3 races, Won race #2 and runner up of the 3rd race of Interlake dragways head up series in the pro-street class
---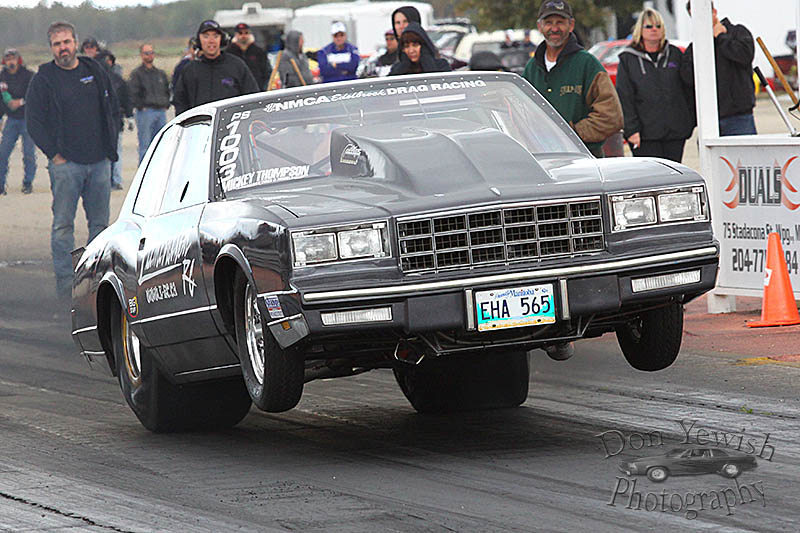 1985 Monte Carlo
Chassis
25.2 molly chassis
80" single wheeliebar
Weld magnum 2.0 rims w/ beadlocks on the rear
M/T front runners, and slicks on the rear ( Also run M/T 10.5w's)
Strange struts, and rear shocks
Moser 9.5" w/ swaybar and wishbone locator strange 40spline axles and 3.60 gears
10lb fire system
Body
Vnf fiberglass doors, and 10" cowl hood
Custom aluminum wing
Gun metal body color
Motor
540ci Reher Morison Built for big boost
Dart cast block
Dart 355 heads with intake (all flowed and ported by Reher Morison)
Wilsons manifold intake elbow
Precision 215lb injector
F3r prochagrer belt driven ( custom crank support snub)
Reese brother belt cover
Peterson external oil pump
Aeromotive belt drive fuel pump
Tsi promod glide and converter
Precision specialties shifter
Bigstuff 3 efi
Racepak dash
Twin aluminum jester rads
Prochrger pt2400 air to water intercooler
Runs on vp c16
Much much more
Ran 7.91 @195 breaking loose more tuning and faster times next year
All cars Built By: Mike Gobeil, With help from Adam Pavcek, Ryan, Collin & Laurrie Gobeil, Ruben Schmid, Simon Little, Brad Davies.
Thanks to the Crew for all the hard work this past season : Ed Kuby, Al Vincent, Melissa Derochers and for others we have forgotten sorry and thank you for the support.
We thank you for all the support and hope to see you guys at the track.